Egyptian activist takes fight for freedom online
Nora Younis has risen to fame in Egypt by pressing for change on her political blog.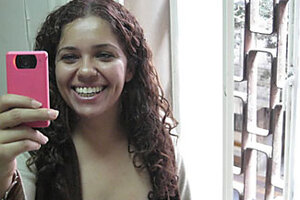 Liam Stack
Few members of Egypt's street protest movement for political reform are as recognizable as Nora Younis. Since Egypt's troubled period of political opening began in 2004, she has made her mark both online and in the street with visual flair and persistence.
As the author of a self-titled political blog, www.norayounis.com, she broadcasts her demands for democracy and human rights. And as a fixture in the street protest movement, she became known in the country's media as the curly-haired girl holding photographs of the Interior Minister and a police commander accused of sexually assaulting her and 30 other women, demanding their arrest and trial.
In October, the New York-based Human Rights First charity gave her one of their annual awards for courage.
But Ms. Younis never set out to be an activist. When the government began opening the political system in 2004 by allowing challengers to run against President Hosni Mubarak, she was an underemployed translator.
A job with a PBS crew who came to Egypt to make a film on the country's democracy movement introduced her to both digital media and some of the country's leading activists. From then on, she says, "I was hooked."
Younis began attending protests, taking photos with the journalists. But the first time she finally decided to take part in a protest, it quickly spun out of control.
---