US opens world's largest foreign mission in Iraq
The $592 million, 104-acre compound that was dedicated in Baghdad's fortified Green Zone on Monday is meant to symbolize a long-term commitment to Iraq.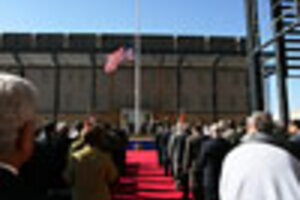 Hadi Mizban/AP
Just inside the gateway of the new United States Embassy in Baghdad, a US Army lieutenant colonel acted as the diplomatic equivalent of a Wal-Mart greeter, welcoming guests Monday afternoon to the dedication ceremony for the largest – and most expensive – American mission in the world.
But even if visitors missed the significance of such a high-ranking doorman, more than 300 feet of red carpet and several hundred Iraqi, American, and other international guests hammered home just how significant this ribbon-cutting ceremony is to the long-term American vision for Iraq.
The $592 million, 104-acre compound that will house at least 1,200 US government employees from 14 federal agencies is brick-and-mortar proof of the value American politicians place on their relationship with this Middle Eastern nation still in the throes of war.
An "embassy compound" might sound uninviting, especially considering that the US Embassy just moved to its new location from Saddam Hussein's Republican Palace. But the design is anything but. It's made up of beige buildings constructed of stone and draped with giant sunscreens, giving it the appearance of a college campus in the American southwest rather than making it feel like a military installation.
Despite present threats that remain for Americans in Iraq, the new facility does not differ drastically from other embassies in terms of its security precautions. It is, however, unique in its ability to be completely self-sustaining, with its own water well and power generator. It can also use city services if available.
---