Deepening Israeli assault on Hamas divides Arab world
Israeli forces struck two United Nations schools in the Gaza Strip on Tuesday, killing at least 34 people, as international call for an immediate cease-fire grew.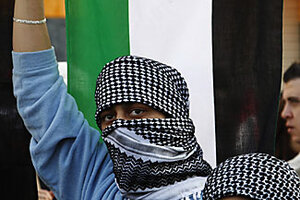 Bilal Hussein/AP
Israel pressed deeper into Gaza Tuesday in its assault on Hamas. As the battle grew deadlier, calls for a cease-fire mounted as did outrage at Israel after two strikes outside United Nations schools killed at least 34 Gaza civilians.
Across the Arab world the conflict continues to tear at the rift between factions that extol resistance to Israel and the Western-friendly autocracies and monarchies that rule in the region. As anger at Israel grows, Hezbollah in Lebanon and Hamas backers in Iran and Syria gain more currency on the street at the expense of American allies: Egypt, Saudi Arabia, and Jordan. And this shifting tide of support could have an impact on US policy in the Middle East for decades.
---