As war winds down, will Iraq's progress hold steady?
Violence has plummeted and US forces are pulling back, but the year ahead will test the staying power of gains throughout the country.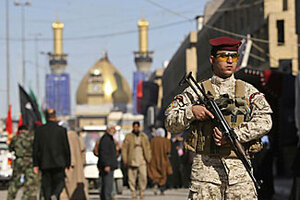 Ahmed Alhussainey/AP
Last year saw vast improvements in Iraq. Violence dropped dramatically and Iraqis took greater political and military control. But war is still being fought, suicide bombings remain a near daily menace, and the gains are fragile. The year ahead will test the staying power of progress as US military forces begin to withdraw, Iraqi politicians jostle for power in Baghdad and beyond, and a new administration in Washington assumes responsibility for the war as it enters its seventh year.
How safe is Iraq?
The mix of the US and Iraqi military troop surge, many Sunnis turning against Al Qaeda in Iraq (AQI) to work with American forces, and a cease-fire among the Shiite militia known as the Mahdi Army ended much of the sectarian fighting that racked the country in 2007.
The increase in security has been striking in Baghdad, where shops are reopening and concrete barriers are being removed. But the surge did push insurgents north to cities like Mosul and Baquba, where attacks are still common but increasingly focused on Iraqi security forces rather than civilians. To be sure, insurgents are still able to carry out high-profile suicide bombings.
---