Hamas remains defiant despite pounding
The Gaza militants embrace 'heroic role' as bombardment continues.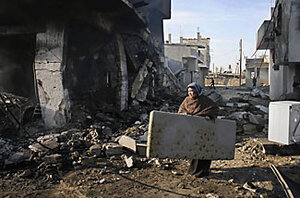 Khaled Omar/AP
Israeli forces continued to bombard the homes of Hamas leaders on Monday as the war in the Gaza Strip entered its 17th day. So far Israel says that at least 300 militants are among the more than 900 Palestinians killed.
But Hamas insists that it has not been significantly hurt – tactically speaking – by the onslaught. Government offices and tunnels have been destroyed. Its leaders are pinned down, unable to move freely or show their faces in public or even communicate on cellphones that can be tracked by the Israeli army. Israel recently killed Amir Mansi, commander of Hamas's Gaza rocket division, and its stream of Qassams has dropped 50 percent since the assault began. But it is still able to launch rockets at Israel.
Has Israel decimated the Hamas leadership – and eroded its support among Gazans? Are its senior political chiefs based in Syria calling the shots and prolonging a battle that war-weary Gazans would increasingly like to see ended?
Inside Gaza, relief is needed immediately; rebuilding could take five years. Hamas in Gaza sent a three-man delegation to Cairo to work on reaching a deal. But Hamas leaders from abroad have taken a harder line, indicating that it would rather fight until the last man than agree to a cease-fire that doesn't meet its demands.
---
Follow Stories Like This
Get the Monitor stories you care about delivered to your inbox.