Fatah, Hamas split widens amid Gaza war
Members of the secular Fatah movement, which controls the Palestinian Authority, are divided over how the group should respond to the ongoing Israeli offensive against Hamas.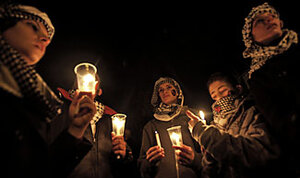 Mohammed Muheisen/AP
As Israel's battering campaign in Hamas-run Gaza continues, pushing the Palestinian death toll toward 1,000, the Fatah-controlled West Bank has been largely quiescent.
Fatah is keeping a lid on protests, not letting West Bankers draw it into Israel's war on Hamas. Senior voices in the secular party that runs the Palestinian Authority (PA) see restraint as key to its quest for statehood. Getting entangled in Gaza, they say, would only embolden Hamas.
Others say Fatah is making a fatal mistake. Its inaction will irreparably damage its standing in the eyes of Palestinians and erode support for the group that both America and Israel view as peace partners.
Worse, some say, Fatah is left looking like it supports Israel's military campaign. Some of the Arab media portray Fatah as sitting on the sidelines, hoping to regain control of the coastal enclave from which it was ousted in a violent June 2007 coup by Hamas.
A letter within Fatah, penned and signed by disaffected activists and sent to the office of PA President Mahmoud Abbas, shows the extent of frustration.
"We were used to the situation in which Fatah was the leader in any confrontation against the occupation, and for the first time, we find ourselves outside the standoff. This is going to cost us dearly, especially when it comes to public support, and it is going to harm our credibility in the eyes of the people," it reads.
---