Israel's last surge before a Gaza cease-fire?
The UN headquarters in Gaza was struck by Israeli fire. Fissures are emerging among Israeli civilian and military leaders over how and when to end the campaign.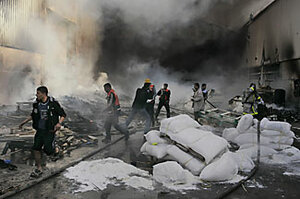 Hatem Moussa/AP
The Israeli military on Thursday shelled the main United Nations aid compound in Gaza, struck a building that houses foreign news organizations, and caused a fire at a hospital. The attacks sparked global condemnation even as efforts to reach a cease-fire continued.
Later in the day, Hamas struck the Israeli city of Beersheba with a salvo of Qassam rockets, injuring five people, two of them seriously.
The Israeli strikes on what political officials said were unintended targets in the Gaza campaign underscore what some analysts see as a furious drive by the Israeli Defense Forces (IDF) to achieve as many last-minute blows to Hamas as possible before a cease-fire is reached. And at this stage of the war, fissures are emerging within the Israeli civilian and military leadership.
"It's the final push to make Hamas understand, either they make a decision for a cease-fire, or it will be difficult to survive," says Shmuel Rosner, a leading opinion maker and journalist. "They need to show seriousness so Hamas doesn't interpret Israel's waiting of the last few days as reluctance to continue the operation."
---