In Gaza, a family wonders how to rebuild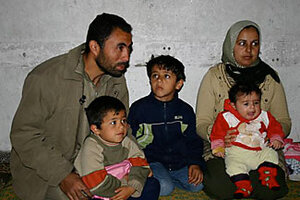 Ilene R. Prusher/Staff
GAZA CITY, GAZA STRIP – While several thousand Palestinians remain homeless or otherwise displaced, the competition for hearts and minds that has plagued and propelled Palestinian politics over the past 20 years is palpably shaping how quickly Gaza will be rebuilt – and by whom.
As average people struggle to pick up the pieces and survive the winter, their leaders are scrambling for the right to put this shell-shocked coastal strip on the road to reconstruction. A shaky cease-fire – which will be a week old on Sunday - looked likely to hold.
Hamas, which says it is ready to take charge of reconstruction, plans to begin distributing $35 million to $40 million in assistance this Sunday to Gazans affected by the war, a spokesman said.
But Israel argues that international assistance must go through aid agencies and that the local partner in this effort should be the Fatah-run Palestinian Authority (PA), which Hamas overthrew 1-1/2 years ago.
Ashraf Ziad, who fled his home in Bet Lahiya in the northern Gaza Strip, counts himself as one of the early recipients of Hamas aid. Mr. Ziad, his wife Nadia, and their three small children fled their village, which had already been under continued bombardment, when the Israeli army dropped a snowstorm of leaflets warning that the area would soon be bombed. Militants frequently use the northernmost parts of Gaza to launch Qassam and Grad rockets at communities inside Israel.
---