In pummeled Gaza, Hamas recoups
Israeli and Palestinian officials met in Cairo Sunday in a bid to bolster the current cease-fire.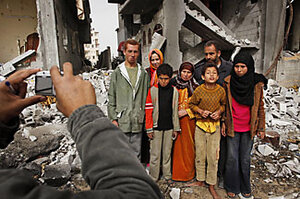 Kevin Frayer/AP
Western and many Arab powers have tried to marginalize Hamas for its militancy, its fundamentalism, and its denial of Israel's right to exist. But Hamas's 22-day pummeling by Israel leaves it limping yet still standing – and therefore an organization to be reckoned with.
Hamas is banking on a new US administration and the fact that any cease-fire deal, international rebuilding, or humanitarian relief effort will have to include Hamas.
From where Ahmed Yousef sits, in the garden of a beautiful villa that escaped the Israeli pounding, Hamas might be better positioned than ever before. Outside the sprawling home, Dr. Yousef, a foreign-relations adviser to the Hamas government, is receiving international visitors. New green Hamas flags hang along the road meridians. Uniformed Hamas policemen are back on the street at major intersections. Ministers in the Hamas government, dozens of staffers in tow, tour the ruins of neighborhoods flattened by the Israeli military campaign – handing out cash and vowing to take charge of the rebuilding.
In a quick start to efforts by President Barack Obama's new administration to shore up a shaky Gaza truce and revive Israeli-Palestinian peacemaking, his envoy, former US Sen. George Mitchell, is expected in Israel and the West Bank on Wednesday. His agenda, to date, does not include a meeting with Hamas .
---