Crux of Gaza cease-fire: border crossings
Israel temporarily closed its crossings into Gaza Tuesday after a soldier was killed by a roadside bomb. After the attack, Israeli forces killed one Palestinian and wounded a senior militant.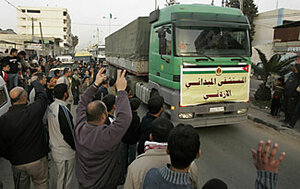 Ismail Zaydah/Reuters
After everything that Gazans lost in the past month of war, there is at least one thing many are hoping to gain – and which international aid providers say they must have: better access to the outside world.
Whether the cease-fire continues depends in large part, Hamas officials say, on whether Israel agrees to open the crossings it controls to Gaza. International agencies pushing to get more aid into the strip say there is still an insufficient flow of materials and a total absence of those that would help Gaza rebuild.
The demand to open the borders and end the virtual embargo on Gaza – levied since Hamas was elected in a parliamentary vote three years ago and more forcefully applied when it took over in a June 2007 coup – will be a key facet of revved-up cease-fire negotiations as Washington's new Middle East envoy, George Mitchell, arrives in Egypt on Tuesday.
With the world's eyes on the nightmarish remains of war, many voices are pointing to the unsustainability of turning Gaza into an isolated pariah state as a way to push Palestinians closer to peace with Israel.
---