A momentous vote in Iraq after years of war
Polls open throughout most of the country for a provincial election that could shift the balance of power.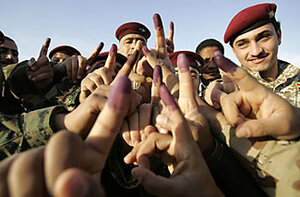 Alaa al-Marjani/AP
In a country undergoing a grand reinvention, voters Saturday will choose not just who represents them in provincial governments but define the shape of Iraq in the tumultuous year ahead.
It's a national election full of firsts: The first held by a fully sovereign Iraq; the first in which Iraq's vital Sunni Arab minority is playing a large role; and the first in which Iraqis can vote for a flood of individual candidates – 14,467 of them vying for 440 seats – as well as parties.
"Those whom they elect – provincial council directors or governors – eventually are the ones who actually control the resources ... who can or cannot deliver water, electricity, sanitation, and provide employment," says United Nations special representative Stefan de Mistura in Baghdad.
"Members of parliament provide laws – these people, people have learned, are going to be accountable in terms of real power – power on the ground," he says.
Mr. de Mistura brokered the deal to hold the vote by convincing Iraqis to temporarily set aside the issue of Kirkuk, the city claimed both by Arabs and Kurds.
To avoid allegations of voter registration and ballot fraud that marred the 2005 elections in some areas, the UN has overseen a complex array of security features: from the 20 million ballots printed outside Iraq in the same place the United Arab Emirates uses to print its currency to the indelible India ink that still stained de Mistura's finger purple 11 days after he tested it.
---