Sunni party's rise in Iraq signals new nationalist current
The al-Hadba Party emerged from Saturday's vote as a serious challenge to the status quo in Iraq.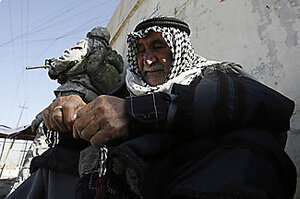 Erik de Castro/Reuters
Atheel al-Nujaifi, leader of an emergent Sunni Arab party, suddenly finds himself at the center of a sea change in this country's most turbulent province.
While ballots from Iraq's provincial vote Saturday are still being counted, officials say that Mr. Nujaifi's al-Hadba Gathering Party probably did well enough to control Nineveh's provincial council, previously in the hands of Kurds.
A victory would have broad implications. While it sets the stage for heightened tensions in Mosul between Kurds and Arabs, some say it could also convince Sunni Arab insurgents to lower their guns as they are beginning to see new political openings.
Overall, Nujaifi's party seems a harbinger of a wider nationalist, secular current intent on throwing off US and Iranian influence.
"All the people who went out and voted, voted against the status quo and the Kurdish parties have to understand this reality," says Nujaifi, a prominent businessman who campaigned on a platform that US and Iraqi officials describe as blatantly anti-Kurdish.
"We are not enemies of the Kurds," insists Nujaifi, his black Italian cashmere jacket offset by a subtly striped red and white tie. "There are certain issues and we would like to discuss these issues with Kurdish parties but we are not going to give up the rights for the people who have voted for our party."
Nujaifi warns that unrest could break out in the streets of Mosul, Iraq's third largest city and a main commercial center, if Kurdish officials do not accept the election results.
---