War crimes accusations rattle Israel
In the wake of the Gaza war, Israel is preparing to defend itself and its soldiers against possible criminal charges in European courts that claim 'universal jurisdiction.'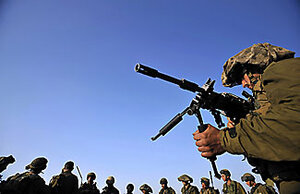 Amir Cohen/Reuters
Three-and-a-half years ago, Israeli reserve Gen. Doron Almog was forced to flee Britain just after landing in London. He had been tipped off about a surprise warrant for his arrest issued by a British magistrates court. The charge: war crimes.
Now, as the recent Gaza war stirs up more accusations of offenses, the Jewish state and international human rights advocates are gearing up for more potential criminal cases against military officers and political leaders in Europe and possibly elsewhere.
But instead of international tribunals or the Israeli justice system, the main venue for the cases is expected to be European domestic courts that cite a legal approach known as "universal jurisdiction" that allows for the trial of cases of heinous acts, torture, or war crimes that allegedly occur outside their own borders.
Israelis consider the threats part of an ongoing political witch hunt. Palestinians and humanitarian activists, on the other hand, see the domestic courts as the only forum to argue whether war crimes were committed.
"The systems in place across a number of countries will be tested.... We have legal teams working across and beyond European countries" on behalf of Palestinian plaintiffs claiming war crimes, says Daniel Machover, an Israeli-born British lawyer who works in coordination with the Gaza-based Palestinian Center for Human Rights and pushed for Mr. Almog's arrest in 2005. "There's no other way a country under occupation or a land under occupation can seek justice."
---