A setback for Turkey as Mideast broker
Prime Minister Erdogan's popular tirade on Gaza also hurt his credibility.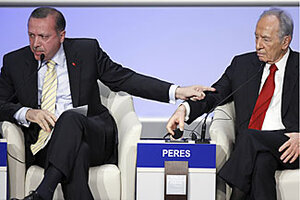 Alessandro Della Bella/Keystone/AP
Turkish Prime Minister Recep Tayyip Erdogan's recent outburst at the World Economic Forum, where he berated Israeli President Shimon Peres for Israel's attack on Gaza, has won him unprecedented popularity in the Arab world.
Mr. Erdogan's tirade may help Turkey reconnect with the region after decades of being estranged. But it could also damage Turkey's aspirations to be a mediating power in the Middle East, particularly between Israel and its neighbors.
"The cost [of his actions] was possibly the loss of something that was starting, but that hadn't matured, and that was Turkey's emerging role in the Middle East," says Semih Idiz, a columnist who writes on foreign affairs for the Milliyet newspaper. "Erdogan made his position very apparent, and it's hard to see how he will be an honest broker at this stage."
---