As Israelis vote, it's all about war and peace
Benjamin Netanyahu, the Likud party hawk, leads in polls ahead of Tuesday's parliamentary election.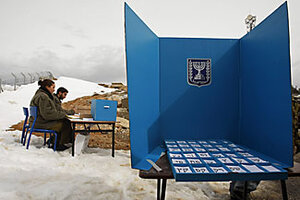 Dan Balilty/AP
When Israelis go to polls Tuesday, the impact of the country's two wars in less than three years will be a deciding factor for many.
Gaza still smolders after the 22-day assault on Hamas that killed 1,300 Palestinians but didn't stop rockets from falling on Israel. That operation rekindled many of the painful memories from Israel's 2006 failed war in Lebanon against Hezbollah.
The ruling Kadima party, a centrist coalition, oversaw both operations and will probably take the brunt of voter frustration over its performance. The wars have pushed Israelis, many of whom wanted to take a harder line against militants on their borders, further to the right, giving conservative parliamentary candidates the edge.
Pollsters predicted on Monday that Likud party chief Benjamin Netanyahu would come out on top, a victory that could redefine the terms of Middle East peacemaking.
"The right-wing politicians are able to say, 'You had a center-left coalition and it didn't you bring anything, except that it engaged in two wars in just over two years,' " says Yitzhak Brudny, a political scientist at the Hebrew University of Jerusalem.
---