Khomeini revered as Iran's revolution hits 30
Iran marks the anniversary of its 1979 Islamic revolution on Tuesday.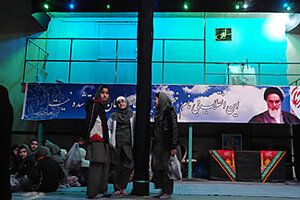 Scott Peterson/Getty Images
In dim light from high windows, the stream of schoolchildren never stops. Class after class of pupils, herded by their teachers, make their pilgrimage to the place where Ayatollah Ruhollah Khomeini, the founder of Iran's 1979 Islamic revolution, once preached.
A banner leaves no doubt about today's lesson: "This revolution is not known anywhere in the world without the name Khomeini."
As Iran marks the 30th anniversary of its revolution on Tuesday, the ayatollah's defiant spirit still towers above all. From Iran's opposition to America as the "Great Satan," to the spread of its ideology of resistance – as well as loving family moments – Khomeini's legacy lives on in fact and myth.
"The imam [Khomeini] would enter through this door," religion teacher Alireza Boroujerdi tells his group of 20 attentive boys sitting on the floor of the Jamaran prayer hall in North Tehran. "From this closed and small place, he would move the world. He would say something and the backs of world leaders would shake."
Khomeini lived simply, yet he inspired the "oppressed people" of Lebanon and the Palestinian territories to "stand up and resist" Israel, Mr. Boroujerdi tells the students. Every night he prayed, and cried so much that he needed a towel because "tissues were not enough to wipe his tears," Boroujerdi says.
---