New drive for Israel, Hamas cease-fire deal
With no official agreement, Israel's Kadima Party could falter in Tuesday's vote.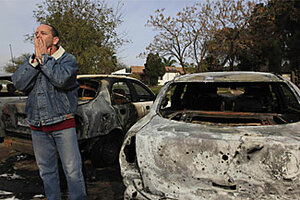 Tsafrir Abayov/AP
Less than 48 hours before parliamentary elections here, the drive to reach a lasting cease-fire agreement between Hamas and Israel following their 22-day war is taking on new urgency.
If a deal isn't in place when Israelis go to the polls Tuesday, the ruling Kadima Party could take a significant hit. The centrist party led by Foreign Minister Tzipi Livni is already in second place in polls behind the hawkish Likud party, headed by Benjamin Netanyahu, a right-wing politician who was prime minister from 1996 to 1999. Ms. Livni and Mr. Netanyahu are the two main contenders for the country's new premiership.
But the left-leaning Labor Party, headed by Defense Minister Ehud Barak, could lose the most political ground as a result of the war – which came to an inconclusive halt Jan. 18 after both sides declared unilateral cease-fires – as many Israelis blame the "peaceniks" for not dealing with Hamas rockets on southern Israel much sooner.
"Barak really wants to get a cease-fire, as well as Livni, because having a unilateral cease-fire doesn't really mean much. If Hamas continues to shoot on election day, it doesn't look very good, and the fact that there is no quiet in the south is one of the forces pushing the electorate to the right," says Efraim Inbar, a political science professor at Bar Ilan University near Tel Aviv.
---