Iran's Ahmadinejad 'ready' to talk with America
But despite their leader's message to Obama, Iranians at Tuesday's 30th anniversary rally continued to chant 'Death to America.'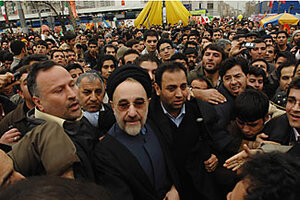 Scott Peterson/Getty Images
Determined chants of "Death to America" rang out in city after city in Iran Tuesday, even as President Mahmoud Ahmadinejad told a mass rally in Tehran that Iran was "ready" to talk to its arch-enemy if the US showed "real change."
Speaking as Iranians marked the 30th anniversary of the Islamic revolution, Mr. Ahmadinejad declared Iran to be "officially … a real and genuine superpower," and that the "shadow of threat has been removed forever" from the Islamic Republic.
"From now on, which power in the world can be found that has the courage to threaten the Iranian nation?" Ahmadinejad asked to cheers.
Facing tens of thousands of flag-waving Iranians at Tehran's Azadi (Freedom) Square, Ahmadinejad offered his first response to President Barack Obama's comments Monday that he was "looking for openings" with Iran.
"It is quite clear that real change [from the US] must be fundamental and not tactical. It is clear the Iranian nation welcomes real changes," he said. "The Iranian nation is ready to hold talks but talks in a fair atmosphere with mutual respect."
Despite the nod toward dialogue, the message from state-run TV was unrelenting. The afternoon news broadcast on IRIB Channel 1 devoted 25 minutes to scenes of Tehran and huge rallies across the country, with primary emphasis in every city on the "Death to America" chant.
That strident tone failed to reach one father, his flag-waving daughter astride his neck. He asked where this correspondent came from, and then replied: "America? Let us be together."
A centerpiece of the anniversary – dubbed the "Day of God" by official media – was a replica of the rocket that in the past week launched Iran's first satellite, the Omid [Hope] into orbit. With blue-painted nose-cone and fins, and Iranian flag, it was a graphic display of Iran's entry into space, which people flocked to photograph.
---