A peace sign: Iraq's Sunnis joining Shiite pilgrims
After three years of violence, pilgrims return to Karbala's shrine.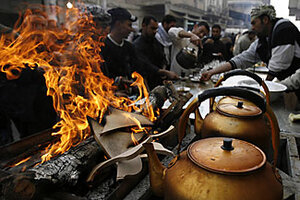 Atef Hassan/Reuters
Sheikh Mohammad al-Ethawi, resplendent in his gold-trimmed robe and white headdress, hands out oranges to Shiite pilgrims walking by a striped tent on the main route to the holy city of Karbala.
Sheikh Ethawi is Sunni. The Doura highway, where more than a million pilgrims – largely Shiite – are walking for the first time in three years, passes through what had been one of Baghdad's most violent neighborhoods. Their numbers and Ethawi's presence are a sign of the easing of sectarian tensions that almost ripped this country apart.
"A lot of people were afraid last year," says Ethawi, the head of the Hathar tribal council in southern Baghdad. The council, a mix of Sunni and Shiite leaders, is hosting a rest stops that offers food, drinks, and shelter along the roads choked with pilgrims, who walk for days to reach the holy city. The pilgrimage commemorates Arbaeen, the end of 40 days of mourning for the death of the prophet Muhammad's grandson Hussein in battle 13 centuries ago.
The Iraqi government launched a massive security effort for this year's pilgrimage that culminated Monday with an estimated 6 million people gathering in Karbala. Most seemed undeterred by scattered attacks along the route, including a female suicide bomber who killed at least 40 people when she blew herself up at a rest stop south of Baghdad and another bomb in Karbala that killed eight.
"It was a small explosion," says Jamil Dawoud, driving through Radwaniyah, 10 miles south of the capital, on his way back from the holy city.
---