Key prisoners at center of Israeli-Hamas negotiations
Among the scores of Palestinian prisoners who Hamas wants freed in exchange for Israeli Sgt. Gilad Shalit is Marwan Barghouti, the most popular man in Fatah.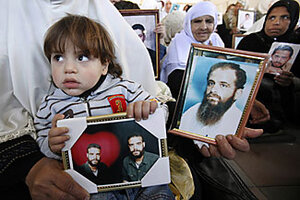 Suhaib Salem/Reuters
Israel on Wednesday increased pressure on Hamas to free Gilad Shalit, the soldier held by the Gaza militants, by saying it would not agree to a long-term cease-fire deal, open borders into the coastal strip, or release the 1,000 prisoners that Hamas wants freed until they know he is coming home.
The Israeli Security Cabinet's stance angered Egyptian mediators and Hamas officials who say a prisoner swap, which appeared imminent, should be a separate issue from truce talks.
The decision may set back negotiations in Cairo and probably postpone the freedom of Palestinian prisoners – one of whom is an unexpected choice among the scores of Hamas inmates: Marwan Barghouti, the most popular man in Fatah.
Mr. Barghouti, arrested by Israel in 2002 at the height of the second intifada, has been consistently chosen in public opinion polls as man most Palestinians think of as their future leader, and the candidate most likely to beat Hamas in the next presidential election.
But why would Hamas work to see Barghouti set free?
Many here say that winning Barghouti's release will help Hamas win points among all Palestinian factions. Internally, this could pave the way to national reconciliation by helping to mend the bitter Fatah-Hamas split. Abroad, it's likely to blur the line between Palestinians who are ready to reach a permanent peace deal with Israel and those who will never be.
---