Saudis break taboo of opposing royals after soccer row
The incident highlights a shift from unquestioned deference toward the royal family.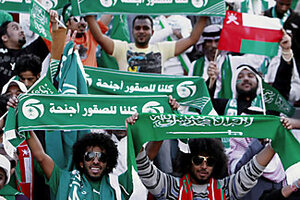 Karim Jaafar/AFP/Getty Images/Newscom
It had been a bad day for the kingdom, and three soccer commentators were trying to make sense of the national tragedy on a live TV talk show.
Saudi Arabia's national team had lost the 19th Arabian Gulf Cup to Oman, 6-5, because the players were underperforming. There was discord on the team. The coach had made bad moves. Their complaints went on and on. And no one could say that the three – a coach and two former national team players – were unqualified to assess the damage.
Suddenly, word came that a VIP was calling in, demanding to talk with the critics. Prince Sultan bin Fahd, son of the late king, and head of the Saudi Arabian Football Federation, had vowed to bring this year's Cup back from Oman.
What happened over the next few minutes, and in the days that followed, became a chart-topper when Saudis gathered to chat. For the episode is one of those moments when a nation instantly recognizes how it has changed. And in this case, that involves the slipping away of unconditional deference to royals.
Most royal family members are still held in high esteem. But economic, political, and demographic forces, as well as new forms of communication, are contributing to changing perceptions about how much unquestioning submission is due the royal sector.
Not least among these forces of change are those issuing from the head of the royal family itself, King Abdullah bin Abdul Aziz. Just days ago, the king announced an overhaul of the country's religious and political leadership aimed at speeding up implementation of reforms, particularly in education and the legal system. The king's agenda also includes a slow expansion of responsibilities for the Shura Council, an appointed advisory body.
---