Iran pushes Iraq to close MKO camp
Camp Ashraf, which came under Iraqi control Jan. 1, is home to militants who Iran and Iraq say should be expelled. The MKO is on a US list of terrorist groups.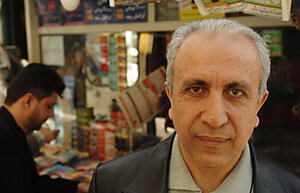 Scott Peterson/Getty Images
TEHRAN, Iran; and ISTANBUL, Turkey
Pressure is growing on Iran's main opposition group to leave Iraqi territory after living under US military protection in a camp north of Baghdad since 2003.
Some 3,400 militants of the Mujahideen-e Khalq (known by the acronyms MKO or MEK) face eviction by the government of Iraq, which has tired of a group that once fielded its own army under the tutelage of Saddam Hussein and remains on Washington's list of terrorist groups.
On Saturday, Iran's supreme religious leader, Ayatollah Sayed Ali Khamenei, encouraged Iraqi President Jalal Talabani to follow through with Baghdad's longstanding desire to disband Camp Ashraf, which came under Iraqi control on Jan. 1.
"We await the implementation of our agreement regarding the expulsion of the hypocrites," Ayatollah Khamenei told Iraq's visiting president, referring to the MKO by the term often used by the Islamic Republic.
Mr. Talabani was quoted as saying that the MKO "have committed many crimes against the Iraqis, and the Iraqi government is determined to expel them and will go forward with its decision."
---