US officials weigh Iran's nuclear weapons capability
Defense Secretary Gates said Tehran was not close to having a bomb. A new report in which senior advisers to Obama participated urges further sanctions.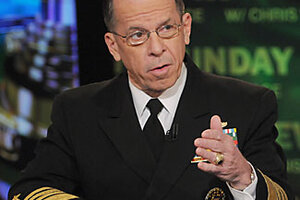 Freddie Lee/FOX News Sunday/AP
• A daily summary of global reports on security issues.
Iran now has enough fissile material to build a nuclear bomb, according to the most senior US military official, Chairman of the Joint Chiefs of Staff Adm. Mike Mullen.
His comment on CNN echoes a recent assessment by the UN's nuclear watchdog on Iran's enrichment program. Iran has repeatedly denied seeking nuclear weapons.
"We think they do, quite frankly," Mullen said on State of The Union with John King. "Iran having a nuclear weapon, I believe ... is a very, very bad outcome for the region and for the world."
Defense Secretary Robert Gates said Sunday, however, that Iran wasn't close to having a nuclear bomb, meaning that there was still time for diplomacy and economic sanctions to have an effect. He told NBC that Iran wasn't even close to having a stockpile of uranium that could be used in a bomb, reports the Los Angeles Times. He pointed out that the global slump in oil has hurt Iran and could give the US and its allies greater leverage there.
---