Iran turns up pressure on rights activists
Campaigners are often seen as a threat to national security and influenced by Western interests.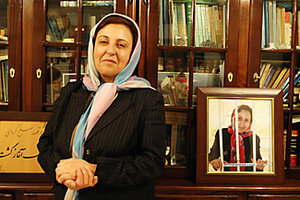 Scott Peterson/Getty Images
Tehran, Iran; and Istanbul, Turkey
The black and red graffiti painted outside the apartment and offices of Nobel Peace Prize-winner Shirin Ebadi on Jan. 1 has yet to be removed.
She has left it up "so everyone will see it," says Ms. Ebadi, adding that the challenge "makes me stronger."
That choice probably suits the hostile crowd of militants who painted the messages while police watched – their handiwork part of a bid to unsettle Iran's best-known rights lawyer.
"Ebadi, death to the witch of America," reads the scrawl on the garage door, the word "witch" misspelled in Farsi. Nearby is another message: "Shame on the holder of the pen of the enemy."
That action, along with the closing of Ebadi's Center for Human Rights Defenders in late December, is the latest volley in a broader challenge by authorities against campaigners of all kinds, from labor leaders and journalists to students and women trying to redress discriminatory laws by gathering 1 million signatures.
For more than two years, Iranian security chiefs have stated that the biggest threat to the Islamic Republic is from inside Iran. Activists are often accused of endangering "national security," and in the pay of arch foes Israel or the US to foment a "Velvet Revolution" against the regime.
---