At Gaza donor conference, Clinton vows to pursue Middle East peace
The US pledged $900 million, but said the money would not go to Hamas.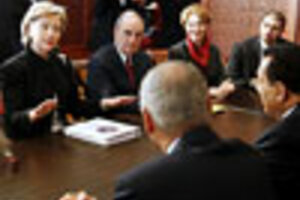 Amr Nabil/AP
Secretary of State Hillary Clinton offered $900 million for Gazans and made a commitment to move toward a Palestinian state at a meeting of donor nations Monday in Egypt.
"By providing humanitarian aid to Gaza we also aim to foster conditions in which a Palestinian state can be fully realized, a state that is a responsible partner, is at peace with Israel and its Arab neighbors and is accountable to its people," said Mrs. Clinton at the one-day summit in Sharm el-Sheik, Egypt.
The meeting was to raise money for the reconstruction of the Gaza Strip, which was devastated by January's 22-day conflict between Israel and the Islamic militant group Hamas.
The Palestinian Authority had hoped to raise $2.78 billion, but that sum had been surpassed by pledges made before the summit by the United States, Britain, the European Union, and the six member states of the Arab Gulf Cooperation Council (GCC).
But as foreign ministers took out their checkbooks, the prospect of rebuilding Gaza was complicated by ongoing negotiations in Cairo over the political framework of reconstruction.
---