Clinton travels to a hardened Israel
On Syria, Iran, and a Palestinian state, Israel's new leadership disagrees with the Obama administration.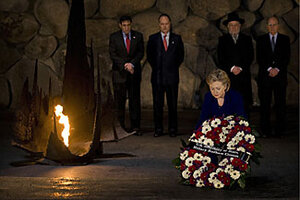 Sebastian Scheiner/AP
Embarking on her first trip to the region as secretary of State, Hillary Clinton pledged that the Obama administration will unshakably support Israel's security and vigorously pursue the creation of a Palestinian state.
That's not substantially different from Washington's stated Middle East policy in recent years. But Mrs. Clinton is likely to find herself and US policy at loggerheads with the new government of Israel, soon to be headed by the conservative Likud leader, Benjamin Netanyahu.
Clinton acknowledged for the first time that the US was dispatching two State Department officials to Syria, a country that's on the US list of terrorist sponsors. "We are reaching out to determine what, if any, areas of cooperation and engagement are productive, and that includes Syria," she said.
From the Israeli-Palestinian conflict to dialogue with Syria to trying a different tack with Iran over its nuclear program, the Obama foreign-policy team's approach looks markedly different from Mr. Netanyahu's.
How Clinton handles those gaps will ultimately shape how effective a role she can play in a mired Middle East peace process.
---