Resignation tests hope for Palestinian unity government
But Prime Minister Salam Fayyad's surprise move, some say, could pressure Palestinian rivals Fatah and Hamas to reach an agreement in Cairo.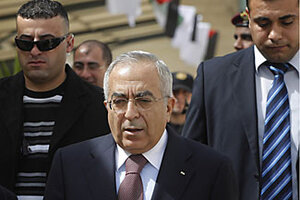 Nasser Shiyoukhi/AP
Palestinian Prime Minister Salam Fayyad – well regarded among international donors and Western supporters of the Palestinian Authority (PA) – tendered his resignation Saturday, saying he will leave office by the end of March.
The surprise move threatens to scuttle hopes within the Obama administration of having Mr. Fayyad head a new national unity government of Hamas and Fatah Party rivals that would be held together by technocrats above the political fray.
Others say Fayyad is stepping aside to make way for a new Palestinian government and will return to politics after a deal is struck between the Islamists of Hamas and the secular nationalists of Fatah.
Fayyad has come under increasing pressure from both sides of the Palestinian divide to step down in order to enable progress in reconciliation talks, set to resume on Tuesday in Cairo.
Fayyad, a former World Bank official, is not affiliated with either of the two main Palestinian political movements. Even though he was chosen as prime minister less than two years ago by PA President Mahmoud Abbas, Fayyad is not a member of Fatah – the mainstream faction of the PLO. As such, according to many observers, he was loath to play its game of paying salaries for patronage.
---