In ruins for 18 months, a Palestinian enclave languishes in disrepair
Lebanese officials worry that Gaza has overshadowed efforts to help Palestinian refugees there rebuild from a 2007 battle between the Army and militants.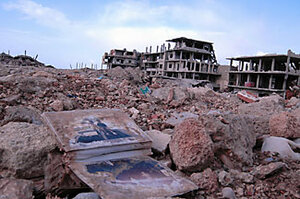 Nicholas Blanford
NAHR ALBARED REFUGEE CAMP, Lebanon
Rebuilding Gaza isn't the only effort under way to improve the Palestinians' plight. Eighteen months after it was wrecked in fighting between the Lebanese Army and Islamist militants, this impoverished refugee camp is just beginning to be put back together again in a project hampered by a political crisis, slowed by donor apathy, and overshadowed by the war between Hamas and Israel.
"We are telling donors if you really want the camps improved and to end the misery, which makes these places fertile grounds for extremism, then we need resources," says Khalil Makkawi, a former Lebanese ambassador and chairman of the Lebanon-Palestinian Dialogue Committee.
Even though Lebanon has been trying to raise funds to improve conditions for Palestinians across the country, it may not even have enough money to rehouse some 30,000 refugees left homeless after the 2007 battle in Nahr al-Bared.
The United Nations Relief and Works Agency (UNRWA), which is responsible for the welfare of Palestinian refugees, only has sufficient funds to rebuild homes for a quarter of the camp's population.
---