'Islamic MTV' takes on brash world of Arab pop videos
Cairo's 4Shbab TV offers a music video alternative – with content that its founder says isn't 'haram,' forbidden in Islam.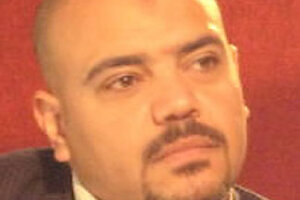 Liam Stack
Arab pop music is bold and brash. Its sensibilities straddle Cairo's middle class propriety and Hollywood's freewheeling hip-shaking.
Turn the TV dial to one of a dozen music video channels and you find a rare sea of exposed shoulders and bare midriffs in a town where most women are veiled.
Into this swirl of light and music steps Ahmed Abu Haiba, a self-described "media man" with a zabiba, or prayer bruise, on his forehead. He is the founder and managing director of 4Shbab TV, billed as "Islam's own MTV," a satellite network with worldwide ambitions that launched Feb. 1.
The idea behind 4Shbab is simple, he says. Mainstream music videos are "lewd" and do not represent the Arab world's cultural values. He says they are haram, or forbidden and sinful in Islam.
4Shbab TV is Abu Haiba's attempt to put young people back on the right path, he says, in a way that is fun and entertaining. Music videos from around the world – not just "Islamic videos," but anything that's positive, he says – air alongside call-in shows and contests like "Who wants to be an Islamic pop star?"
"Ask people in the street and they will tell you that these channels are something strange in our culture," he says. "They smash our identity and confuse people, especially the younger generation. They give them a misunderstanding about their own lives.
"You see young men today wearing their hair in a ponytail and looking like young men from another culture," he says.
The videos on 4Shbab don't have the backup dancers and beach side sets of their mainstream counterparts. In one, singer Sami Yusuf sits by a baby grand piano. Something of a Cairo heartthrob, Mr. Yusuf's song, "He is there," celebrates the omnipresence of God without being religiously specific.
---