For a few minutes, Arabs and Jews united by music
Young musicians from a West Bank refugee camp performed on Wednesday for survivors of the Holocaust.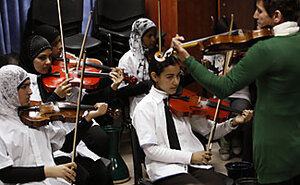 Gil Cohen Magen/Reuters
It was the rarest of encounters: Israeli Jews and Palestinian Arabs separated by generations and bitter conflict.
Teenage musicians from a Palestinian West Bank refugee camp played the notes, although sometimes flat, of classical Arabic melodies. An audience of elderly Jewish Holocaust survivors tapped their feet and nodded in rhythm.
Lately, Israelis and Palestinians seldom mix in any setting, and this concert Wednesday morning near Tel Aviv by refugee children for concentration camp survivors came with plenty of historic, cultural, and political baggage. But for about an hour the enmity vanished. A dozen performers and about 30 survivors connected through music and, perhaps, gave one another some empathy for lives intertwined by conflict but separated by borders.
"They have a difficult past and we have a difficult past," says Keren Naiomi, a native of Poland who lost her entire family at the age of 5 and then was sent to a concentration camp. "They're from a refugee camp and we're from a concentration camp." For many of the Palestinian young people, who come from a neighborhood that was leveled by an Israeli invasion seven years ago, the rare permits to cross legally into Israel stirred excitement first and foremost – mostly about their first visit to the beach and to the land that their grandparents and parents called home before Israel was created in 1948.
The orchestra knew little, however, about their audience. The Holocaust is not taught in Palestinian schools or many places in the Middle East because of its political sensitivity as one of the seminal events leading to the creation of Israel.
---