US general: American forces may not leave key Iraqi cities
The top commander of ground forces in Iraq says that US troops may stay longer than the June deadline in Baquba and Mosul.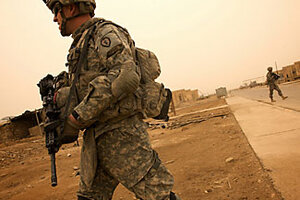 Newscom
The US withdrawal from Iraq is under way. Some troops are preparing to go home and others have pulled back from outposts to bases. But the planned pullback of American soldiers from all Iraqi cities by the end of June will probably not be fully met.
In an exclusive interview, the top US ground commander in Iraq says that while Iraqi forces have made huge strides, Iraqi officials are likely to ask for US help in the key cities of Baquba and Mosul, meaning that American troops may stay there after the deadline for redeployment to major bases. Senior military commanders say US troops will also likely stay on in the southern city of Basra.
"In Mosul and Diyala [Province], as we do a combined or joint assessment of the situation on the ground, I have every expectation that both sides will say we need to stay with this a little bit longer until this improves," says Lt. Gen. Lloyd Austin, echoing sentiments of Iraqi officials concerned about ongoing fighting in those areas.
While US forces are to hand over combat missions to Iraqis by Aug. 31, Iraqi forces likely won't be able to operate completely on their own until the end of 2011, when American forces are scheduled to be out of Iraq altogether, says the senior US ground commander in Iraq.
"I think the Iraqis know that there are some things that have to occur before we leave," he says. "They know that there are some capabilities that they have to develop. I think they'll be up to task when we do leave by 2011."
---