Jihadi dispute points to deeper radicalism among youths
A leading jihadi theologian – and adviser to the late leader of Al Qaeda in Iraq – is under fire for 'moderating' his views.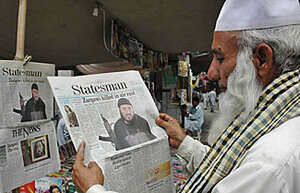 Ali Imam/Reuters/File
In yet another fissure within radical Islamist networks, one of the world's most influential jihadi theologians is coming under fire from some former followers for allegedly moderating his views – a claim he denies.
The attacks on Jordanian cleric Abu Muhammad al-Maqdisi, who was spiritual adviser for the late Abu Musab al-Zarqawi, leader of Al Qaeda in Iraq, are significant because of Mr. Maqdisi's longtime stature as a revered spiritual mentor who legitimizes violence with his religious interpretations of Islamic sacred texts.
For some outside experts, the bitter verbal dispute in jihadi online forums is alarming because it heralds the emergence of an even more radicalized younger generation of violent extremists.
"There's a new radical generation growing today" and it "is a product of the American occupation of Iraq," says Murad Batal al-Shishani, a London-based analyst of Islamic groups.
This generation, which Mr. Shishani calls "neo-Zarqawists," includes veterans of Mr. Zarqawi's jihad in Iraq. Inspired by Maqdisi, the analyst adds, they now are "coming and saying that he is too soft."
Other analysts regard the back-and-forth between Maqdisi and his critics as an indication of disarray in a jihadi movement that is past its prime.
"Maqdisi is often forgotten by the Western media, but he's actually very important," says Thomas Hegghammer, a fellow in Harvard Kennedy School's international security program and moderator of jihadica.com, a blog that monitors jihadi Internet activity.
---