As Netanyahu takes Israel's helm, Syria skeptical of peace prospects
Syrian diplomats say Damascus is serious about making peace, and hope Washington will lean on Israel's new government.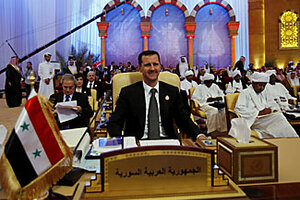 Ahmed Jadallah/Reuters
At the outset of 2009, the prospects for peace between Israel and Syria were looking more promising than they had in a decade.
In mid-December, Turkish Prime Minister Recep Tayyip Erdogan shuttled between two rooms housing Israeli and Syrian delegations in a hotel here to quietly advance peace prospects between the two countries. The Turkish-brokered negotiations, which began in 2007, were the first serious peace moves between Syria and Israel since 2000. A week later, however, Israel invaded Gaza, and Syria broke off the dialogue in protest.
Now, with a right-wing Israeli government under Benjamin Netanyahu due to be sworn in Tuesday night, Syria is offering a bleak assessment of Mideast peace hopes in the coming months.
The "real aim of Israel's recently elected government is against peace" and the composition of Netanyahu's incoming Cabinet is a "clear, unsurprising message to us," Syrian President Bashar al-Assad said during the annual Arab League summit in Qatar on Monday.
What Syria wants
---