In Iraq, British forces hand over control of Basra to the US
American forces will seek to disprove the perception that they are more heavy-handed than the British.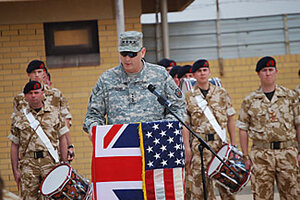 Jane Arraf
British forces handed control to the US military in the port city of Basra Tuesday in a ceremony marking the end of British authority in Iraq and the biggest step in the dismantling of the US-led coalition here.
With a flurry of speeches in British and American accents, the US Army's 10th Mountain Division flag was raised and a British Royal Navy flag lowered over the base at Basra airport that has served as their base during some of the city's worst violence.
"The accomplishments of British forces were nothing short of brilliant," Gen. Ray Odierno, the US military commander in Iraq, told the guests seated outside the airport terminal. He highlighted the British role in reconstructing the city's infrastructure.
With vastly improved security in Basra since the Iraqi Army moved in to dislodge Shiite militias a year ago, the US general taking over the sector says one of his main preoccupations will be convincing Iraqis that US forces will not be more heavy-handed than their British counterparts.
---