Interview: Top US commander in Iraq
Gen. Raymond Odierno outlines the challenges facing US forces as they continue to tamp down violence while working toward a June deadline to withdraw from Iraqi cities.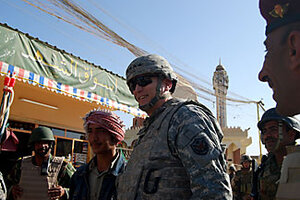 Jane Arraf
As he walks down the pitted streets of this slowly reviving city, Gen. Raymond Odierno says that despite a goal of pulling out of all Iraqi cities by June, he won't repeat the mistakes of the past and rush withdrawing from areas that could revert to insurgents' control.
"We've learned a lesson here over the last several years – that you have to clear an area, you have to have the force to hold it, and you have to allow the community then to rebuild itself.... If you rush your way through that, then the community will fall back into an insecure state," said General Odierno in a Monitor interview during and after his battlefield visit in this city 200 miles north of Baghdad.
US and Iraqi troops continue to drive insurgents out of Iraq's third-largest city, the last urban Al Qaeda stronghold, which is on the fault line of Kurdish-Arab tensions. In the neighborhood of Seven Nissan, Odierno stops to talk to shopkeepers in newly opened grocery stores with neatly stacked pyramids of canned powdered milk while boys race home on bikes from the morning shift at overcrowded schools.
Odierno, the top US military official in Iraq, is facing an array of challenges – among them, he says:
• Continuing Iranian training of insurgents in Iraq
• An Iraqi budget crunch which is hampering expansion of the country's security forces
• Ongoing concern over the future of the Sons of Iraq, the largely Sunni paramilitary force now fully under the control of Iraq's Shiite-led government.
---