In Iraq, Obama underscores support for troops
On a surprise visit that lasted less than five hours, the US president also met with Iraq's prime minister.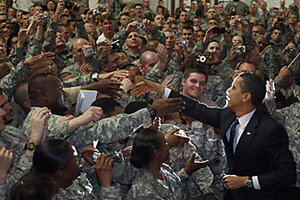 Jim Young/Reuters
President Barack Obama flew into Iraq on a surprise visit to see US troops Tuesday, meeting about 1,500 carefully selected US service members at a base located at one of Saddam Hussein's former palaces.
Although he did not support the war in Iraq and has announced plans for an accelerated pullout from Iraq, the president has gone to great lengths to show that he supports the troops. With the backdrop of a giant American flag hung from the marble balconies, Obama told US troops they had accomplished something extraordinary.
"You have given Iraq the opportunity to stand on its own as a democratic country," he said in the brief visit after a trip to Turkey.
"It is time for us to transition to the Iraqis," he told the troops. "It is time for them to take responsibility for their country," he said, adding that the next 18 months would be crucial.
The base, which is the headquarters of the US ground operations in Iraq, was named Camp Victory – a word President Obama does not use in relation to the Iraq war. Close to Baghdad's International Airport, it is technically outside the city, which means that US troops can remain there after the pullout from Iraqi cities this June mandated in the standard of forces agreement with Iraq.
Maliki: 'All progress will continue'
---