Six years after Iraq invasion, Jordan still playing host to thousands of Iraqi refugees
Jordan struggles to absorb Iraqis who are still coming in, despite improved conditions at home.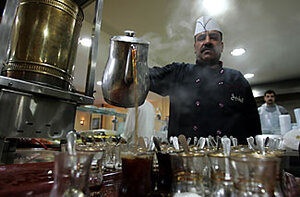 KHALIL MAZRAAWI/AFP/Getty Images/NEWSCOM/FILE
Raida Ali was holding out hope for things to get better in Baghdad. But when her family was directly threatened, they decided it was time to get out. Raida is Shiite and her husband, Mohamed, is Sunni – which was, once upon a time, a common enough situation for a family living in Dora, a mixed neighborhood of Baghdad which turned into a front-line battleground. Kidnappings, murders, suicide bombings, and ongoing offensives pitting the US Army against insurgents were the norm.
"We received a letter threatening us. They slipped it under the door. It said, 'Leave Iraq or you will all be killed, including your children,'" she recalls as her kids ogle a television tuned to the Cartoon Network. Her sister's husband had disregarded a similar letter. He was kidnapped and never heard from again.
So Mrs. Ali, her husband, Mohammed, and their four children arrived here in the Jordanian capital just over a year ago, having endured unrelenting violence since the US toppled the Iraqi regime six years ago this week.
Since they left, a US troop surge and heightened counterinsurgency efforts have led to a substantial drop in violence – and a drop in front-page news stories covering the side-effects of the Iraq war. But here in Jordan, where only 300 of as many as half-a-million refugees have returned home, Iraqis are still trickling across the border.
---