US universities expand in the Middle East
Columbia Global Center, just opened in Amman, Jordan, is raising that city's status in the region.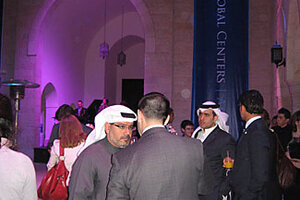 Ilene R. Prusher/The Christian Science Monitor
If a few professors from New York came to Jordan, collaborated with a cadre of students on cutting-edge research projects, and were able to share – in real time – their findings with a similar team in China, what would that look like?
It would look a lot like the future of education. Or so says Columbia University. The university recently opened the first two Columbia Global Centers: one here in Amman and the other in Beijing. Possible future locations include Brazil, Argentina, India, and Tanzania.
"The center is really a hub with bridges throughout the Middle East," says Safwan Masri, director of the new center here and a Columbia Business School faculty member for the past two decades. What's significant, he says, is that the center could cover myriad ideas and topics, and go in multiple directions. "That's what's so exciting."
---