In Lebanon's wild east, Hezbollah finds itself on left foot
After supporting an Army crackdown against lawlessness in the Bekaa Valley, the Shiite organization faces a backlash from angry clan members ahead of June elections.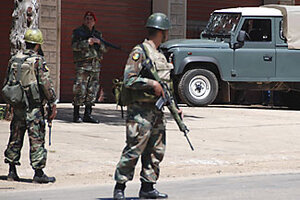 Samer Husseini/AP
The death of a noted drug dealer and the revenge killing of four soldiers have plunged the Lebanese Army into a confrontation with the powerful Shiite clans that rule Lebanon's wild northern Bekaa Valley.
Hundreds of Lebanese special forces backed by helicopters deployed this week into the northern Bekaa, raiding homes and encircling villages in a manhunt for a gang suspected of carrying out an attack on Monday against an Army patrol that left four soldiers dead.
But the clash between the Army and clans in the Bekaa, a Hezbollah stronghold, has placed the powerful Shiite organization in an awkward position.
Long loathe to tangle with the clans from which it derives much grass-roots support, the organization had turned a blind eye to their criminality for years. But when a car thief struck one of its own, Hezbollah signalled its consent to the Army to crack down. Now, some angry clan members are vowing to vote against the Hezbollah-led opposition in June 7 parliamentary elections, shaping up to be the closest in decades.
The tough and close-knit Shiite clans have long held sway in the remote arid plain of the northern Bekaa, an area traditionally ignored by successive Lebanese governments. Some of them earn huge profits from drug trafficking, hashish cultivation, car theft, and counterfeiting.
---