Can Iraq go it alone?
The dramatic drop in violence over the past year is due in part to US-led efforts. But the insurgency could linger.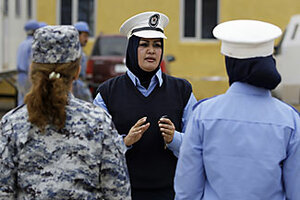 Saad Shalash/Reuters
There is little ambiguity in President Obama's plan for an accelerated US withdrawal from Iraq: By August next year the combat mission will be over. By the end of 2011 all US troops are intended to be gone.
US officials emphasize there are no current plans to keep American forces here past 2011. But as US forces shift gears to advisory and training roles, after six years of combat, the continuing insurgency and Iraq's budget crunch could cause Iraq and the US to rethink that plan.
While Iraq's security forces have improved dramatically, a wide variety of US officials interviewed for this article question whether they will be able to maintain hard-won gains in the face of a low-level insurgency expected to continue for years to come.
"The question is can the Iraqis keep it down without us being here, and we would assess right now that they cannot," says a senior US military official who asked to remain anonymous to be able to speak more freely. Iraq's security forces "are clearly better than they were, but they still do not have the capability to be their own self-sufficient counterinsurgency force."
---