Obama welcomes his first Arab leader to White House
After meeting with Jordan's King Abdullah II, he emphasized his commitment to Palestinian statehood – a top concern among Arabs.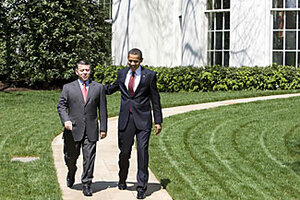 Larry Downing/Reuters
At a critical juncture in the Arab-Israeli peace process, President Obama on Tuesday underscored his commitment to a two-state solution in his first private meeting with an Arab leader since taking office.
King Abdullah II of Jordan, who arrived at the White House on Tuesday morning, in many ways represented the agenda of his allies in the Middle East. While many Arabs are hopeful that Mr. Obama's administration will turn a new page in the region, they have been waiting for the new president to clarify to what extent he will depart from his predecessor's policies. Top on their list of concerns is Palestinian statehood.
"I am a strong supporter of a two-state solution," Obama affirmed in remarks after the meeting, adding that he believed many Israelis support it as well. The problem, he said, was cynicism. "What we want to do is to step back from the abyss and say, 'As hard as it is, as difficult as it is, the prospect of peace still exists.' "
That message contrasts with many who have been dismayed and discouraged with the situation in Israel and the Palestinian territories. Israel's new prime minister, Benjamin Netanyahu, has said he is open to peace with the Palestinians, but has shown little, if any, willingness to negotiate with Palestinians or make concessions. The Gaza Strip and the West Bank remain divided as Hamas and Fatah struggle to create a unity government.
---