Israeli army admits 'isolated' mistakes in Gaza
At a briefing Wednesday, a top officer described the findings of an internal inquiry, insisting Israel acted in accord with international law.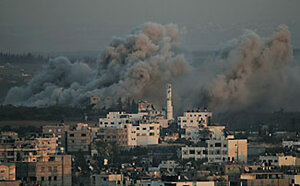 Hatem Moussa/AP/File
Israel's second-ranking military officer admitted Wednesday the army made mistakes that caused civilian deaths during the January Gaza war against Hamas, but he reiterated the Army's assertion that it did not violate international conventions on warfare.
Deputy Chief of Staff Maj. Gen. Dan Harel said the Army will forward to Israel's military prosecutor and the attorney general the findings of an internal inquiry into accusations of illegal use of white phosphorous munitions, targeting humanitarian and civilian infrastructure.
"We found a very small amount of cases where we had operational or intelligence mistakes during the fighting," General Harel told journalists attending a briefing at the military's national headquarters. Still, Harel insisted, the Israel Defense Forces (IDF) "conducted itself in the Cast Lead operation under international rules of law."
The briefing was an attempt to address charges at home and abroad of war crimes. Palestinians and human rights groups allege that the Army used disproportionate force in Gaza's densely packed residential areas that left more than 1,000 Palestinians dead, thousands more injured, and a swath of physical destruction.
The UN is investigating some of the charges, and the International Court of Justice is mulling its own inquiry. Human rights lawyers abroad have said they are planning to introduce lawsuits in European domestic courts willing to exercise principles of universal jurisdiction over accusations of war crimes in third-party countries.
---