With Shiites rising across the region, Saudi Arabia's grow impatient
Older leaders among the minority aim to peacefully address discrimination but warn that younger Shiites are pushing for militancy.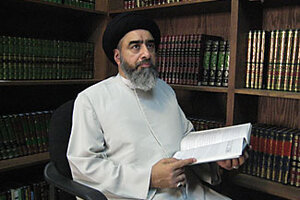 Caryle Murphy
Despite the vast oil fields underfoot, this rural village of struggling farmers and narrow streets is a long way from the gleaming riches and wide boulevards of Riyadh.
It is also far from the strict Wahhabi version of Sunni Islam favored by the Saudi government, since most Awwamiya residents are Shiite Muslims.
These religious and economic realities help explain the graffiti on view here: "Death to Wahhabi," "Down with the government," and "We will not forget our prisoners."
Somewhere here, too, Sheikh Nimer Al-Nimer, a firebrand Shiite cleric in his late 40s, is hiding from police. He is wanted for questioning, officials say, about an angry sermon threatening secession and his possible behind-the-scenes role in Sunni-Shiite clashes in the holy city of Medina earlier this year.
"We've been patient a long time hoping to get our rights," says one Awwamiya resident. "But it's useless."
Recent developments in Medina and Awwamiya reflect deepening frustration among Saudi Arabia's Shiite minority at continuing discrimination in jobs and schools as well as government tolerance for hateful anti-Shiite rhetoric from Wahhabi clerics, according to more than a dozen Shiite activists, writers, and clerics interviewed in the oil-rich Eastern Province.
Shiite leaders also warn of rising militancy in a younger generation that is losing faith in the older leadership's approach of working peacefully for change.
"The problem now we are facing ... is that we are trying to convince those guys that, 'OK, slow down; there are things we are trying to do for you,' " says Sheikh Hussain Al Bayat, a Shiite cleric in Qatif.
---