My Iraq: a reporter's 20-year retrospective
The longest-serving Western correspondent in Baghdad tracks the lives of two Iraqi friends – from dinners under the moon and palms to the heartbreak of war.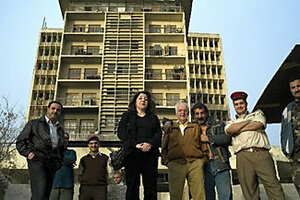 Farah Nosh / Special to The Christian Science Monitor
For Iraqis struggling to find a place in a country they don't recognize, the most heartbreaking decision of all is whether to stay or go. Two of my oldest friends here, who over the years have given me the deepest glimpses into Iraq, have struggled long and hard on the paths they've chosen. Nermeen al-Mufti was a single mother on the front lines. She spent years documenting the bitter war with Iran before she wrote children's books and an outspoken newspaper column. She helped me explore the Baghdad of 1001 Nights in the years of Saddam Hussein's rule. Bassim Sulaiman, a soulful bon vivant amid the tyranny and the rubble, philosophized over candlelit dinners on the Tigris River. He invested huge hopes in the US invasion, only to be hurt by it. The ebb and flow of people like them is part of the history and the future of Iraq. "Every Iraqi who lived under Saddam could write a book about his life," a sheikh who, before the war, escaped Iraq in the trunk of a car, once told me. It's still true. Just when you think a chapter is over, the stories continue to reveal themselves. In those pages is my Iraq.
**********
The perky Arabic voice makes the waiting lounge with its 1970s décor and fake leather seats seem almost normal: "Baghdad International Airport would like to announce..." But if you scratch the surface even a tiny bit, there are worlds colliding here – the individual stories that make up a country unfolding one boarding call at a time.
---