Pope embarks on Mideast fence-mending trip
His pilgrimage this week is also a chance to reassure Jews and Muslims about Vatican views.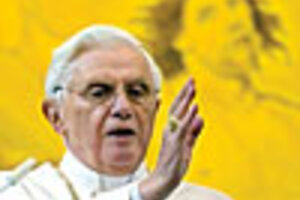 Max Rossi/Reuters
Pope Benedict XVI calls his visit to the Holy Land this week a spiritual pilgrimage, a journey to the sites most sacred to the Christian imagination. Yet it also may become a defining moment of his pontificate, presenting opportunities to reach publics in the Muslim and Jewish worlds that continue to express outrage or dismay over papal actions of recent years.
While his predecessor's 2000 visit to the region came after John Paul II had engaged for decades with other faiths and apologized for the church's historical wrongs against Jews and Muslims, Pope Benedict has been embroiled in controversy for actions many people have considered insensitive, if not provocative.
"It is a pilgrimage, but we can understand pilgrimage as an encounter not only with holy places but with religious communities and political leaders," says a Vatican source familiar with his plans. "It will give the Holy Father the occasion to say again what he believes with regard to religious relations."
As the pope travels from May 8 to 15 to Jordan, the West Bank, and Israel, he also will spend time with local Christian communities, which are themselves under great pressures. Stops include Bethlehem, Nazareth, and Jerusalem, where he'll visit the Dome of the Rock (Islam's third-holiest site), the Western Wall, and the Yad Vashem memorial to the Holocaust.
---