Pope heads to Israel after fence-mending trip to Jordan
In Jordan, Pope Benedict XVI sought to stress the importance of religion in public life as a way to find common ground with Jewish and Muslim groups.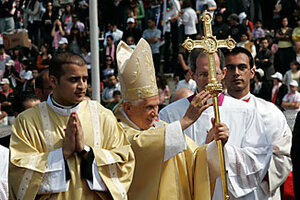 Nader Daoud/AP
The overall feeling in Jordan is one of pride and positivity as Pope Benedict XVI leaves for Israel after a "Christian pilgrimage" that doubled as an opportunity to smooth the Vatican's strained relations with both Muslim and Jewish communities.
On Sunday, the third day of his week-long trip to the Middle East, the pope held an open air Mass in a Jordanian soccer stadium, urging the region's Christians to persevere in their faith despite hardships threatening their ancient communities.
Speaking on Saturday in the company of Christian and Muslim leaders, the pope discussed "the essential relationship between God and the world," which he said was the common ground between the religions.
It's this theme – the importance of a vigorous role for religion in public life – that the pope sought to stress as a way to find common ground between the Abrahamic faith traditions.
"The opponents of religion seek not simply to silence its voice but to replace it with their own," he said. "The need for believers to be true to their principles and beliefs is felt all the more keenly."
Mending fences
Muslims throughout the world reacted angrily when the pope gave a speech at a German university in 2006, which appeared to associate Islam with violence and irrational extremism. And in 2009, many in the Jewish community were up in arms after the pope reversed the excommunication of Holocaust-denying bishop Richard Williamson.
---