Pope's agenda in Israel: honoring Holocaust victims, urging two-state solution
As he landed in Tel Aviv, Pope Benedict XVI spoke of need for a 'just resolution' for Israelis and Palestinians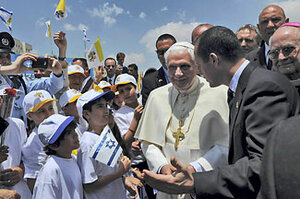 GPO/Amos Ben Gershom/HO/AP
Pope Benedict XVI arrived here on Monday for a historic five-day tour of the Holy Land, and from the moment he touched ground, he urged Christians, Muslims, and Jews to work toward peace based on a two-state formula to solve the Israel-Palestinian conflict.
While still on the tarmac of Ben Gurion Airport outside Tel Aviv, the pope also spoke of the horrors of the Holocaust – referring to it with the Hebrew term shoah – and said that he would "pray that humanity will never again witness a crime of such magnitude." He declared ongoing anti-Semitism in the world "totally unacceptable."
These two messages – telling Jews that he intends to honor the 6 million killed in the Holocaust, and reassuring Arabs that he supports the creation of a Palestinian state – are key themes that the pope is expected to broadcast during his visit here. In addition to encouraging the small native Christian population, which has been dwindling in numbers over decades of Middle East violence, the pope began his five-day visit by setting a tone of healing rifts with Jews and Muslims.
Pope Benedict upset many Muslims around the world in 2006, when he quoted a medieval text depicting the prophet Muhammad as violent. Jews, too, look warily at several of his positions. He has praised Pius XII, the World War II-era pope whom Jews say did little to save Jews or criticize the Nazis during the Holocaust. Also in dispute is his decision to reinstate the Tridentine Mass, which includes a prayer for the conversion of Jews to Roman Catholicism, and his lifting of an excommunication order for a bishop who denies the Holocaust occurred.
But some say the pope's trip itself is a step in the right direction. Many of the controversial matters are more nuanced issues that were taken out of context, says Rabbi David Rosen, the Chairman of the International Jewish Committee on Interreligious Consultations (IJCIC).
---