Iran release of US journalist removes obstacle to US-Iran dialogue
Roxanna Saberi was freed after three months in prison on charges of spying.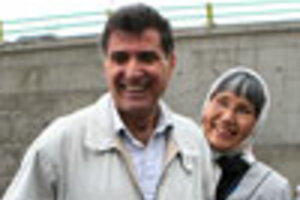 Hasan Sarbakhshian/AP
The decision to free Iranian-American journalist Roxana Saberi Monday after more than three months behind bars in Iran removes one of many obstacles to a new US-Iran dialogue pursued by President Barack Obama, while also clearing away the episode in the runup to Iran's hotly contested presidential election next month.
Ms. Saberi was released and reunited with her parents after an appeals court reduced a previous eight-year sentence for espionage.
Analysts suggest the arrest and heavy original sentence were part of an internal political struggle in Iran, in which hard-liners used the case of the US-born Saberi to complicate any bid to reciprocate recent positive overtures from Washington.
Saberi walked out of Evin Prison on Monday, her release greeted with joy and relief by her waiting father, Reza, and mother, Akiko, who have been in Iran since March to push for their daughter's freedom. Ms. Saberi ended a two-week hunger strike after being briefly hospitalized last week.
"So practically, she is free as of now," Mr. Saberi told journalists outside Evin prison. "She is in good condition, and we are very happy that they gave us such a break for her."
---