US soldier charged with murders at Iraq combat stress clinic
Commanding officers had determined that the sergeant was a potential danger to himself or others.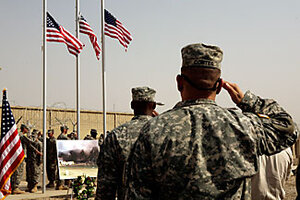 Maya Alleruzzo/AP/file
A US Army sergeant on his third deployment in Iraq has been charged with killing five service people after opening fire at the mental health clinic where he was being treated for combat stress, US military officials said Tuesday.
Maj. Gen. David Perkins said Sgt. John M. Russell, a communications specialist with the 54th Engineering Battalion, had been taken into custody by military police after the shooting yesterday at Camp Liberty on the outskirts of Baghdad. Two staff officers from an Army reserve unit in Indianapolis working at the clinic and three other soldiers were killed.
The attack, the deadliest of its kind in this war, took place at a heavily fortified base camp complex near the airport that has essentially been sealed off from Iraqis to reduce threats to US soldiers.
General Perkins said investigations were ongoing but Sergeant Russell had been deemed to be enough of a threat to either himself or others that his superior officers had previously confiscated his weapon.
---