Tiny Saudi democracy movement sends king blueprint for reform
Signed by 77 activists, a petition sent by express mail Wednesday night calls for an elected parliament and public access to the trials of 991 suspects in Al Qaeda-inspired violence.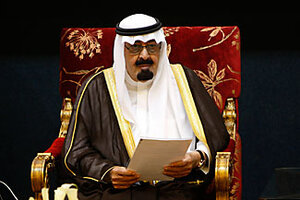 AP
Saudi rights activists have sent King Abdullah bin Abdul Aziz a petition asking for an elected parliament, term limits on royal princes appointed to official posts, and an end to "secret tribunals" for Saudis charged with terrorism offenses.
The petition, which also requests that the post of prime minister be given to "a commoner," is another attempt by Saudi Arabia's tiny but persistent democracy movement to get its voice heard in an absolute monarchy that prohibits political parties.
Sent Wednesday by express mail to the king and 20 other officials, the petition signed by 77 people – mostly self-described "human rights activists" – asks for a constitutional monarchy "like UK, Jordan, and Morocco."
"Our people have to share in the decisions of our country," says petitioner Fowzan Mohsin Al Harbi, a mechanical engineer at King Abdul Aziz City for Science and Technology in Riyadh.
"We need an elected parliament and a prime minister from our people," he adds. "It's good for the royal family and it's good for the people."
In a situation similar to the US debate over the prosecution of Guantánamo detainees, the petition challenged the closed trials of alleged terror suspects – proceedings that the Saudi government has said little about. It asserted that the defendants are being denied their basic rights as guaranteed by Islamic jurisprudence and Saudi criminal statutes.
---